Order sample
Washed Luxembourg - product information
Washed Luxemberg - Group
Click image to enlarge
Washed Luxembourg - Oatmeal
Click image to enlarge
Washed Luxembourg Anthracite
Click image to enlarge
Washed Luxembourg - Arabica
Click image to enlarge
Washed Luxembourg - Birch
Click image to enlarge
Washed Luxembourg - Dove
Click image to enlarge
Washed Luxembourg - Ivory
Click image to enlarge
Washed Luxembourg - Marine
Click image to enlarge
Washed Luxembourg - Mist Grey
Click image to enlarge
Washed Luxembourg - Petrol
Click image to enlarge
Washed Luxembourg - White
Click image to enlarge
Washed Luxembourg Westbury copy
Click image to enlarge
Washed Luxembourg - Neutrals Collection
Click image to enlarge
Washed Luxembourg - Flax
Click image to enlarge
Washed Luxembourg - Ivory
Click image to enlarge
Washed Luxembourg - Prune
Click image to enlarge
Washed Luxembourg - Charcoal
Click image to enlarge
Washed Luxembourg - Slate
Click image to enlarge
Washed Luxembourg - Corn
Click image to enlarge
Washed Luxembourg - Paprika
Click image to enlarge
Washed Luxembourg - Terracotta
Click image to enlarge
Paprika Prune Terracotta Corn Ivory Slate
Click image to enlarge
Ivory Flax Slate Oatmeal Stone Arabica Charcoal
Click image to enlarge
Washed Luxembourg Collection
Click image to enlarge
Washed Luxembourg
137cm (54") wide. Made in Belgium
100% Pure Belgian Linen (Eco) Mill Wash Finish
FR passes: BS 5852 Part 1-0, BS EN 1021-1, NFPA 260
20,000 Cycles Martindale. Heavy Duty Upholstery

Available in 18 Stock Colourways

Whilst every effort is made to represent colours accurately on-screen, we cannot guarantee exact colour match due to variance in monitor calibration.



Care information:
(mouse over icons for details)
show care directions label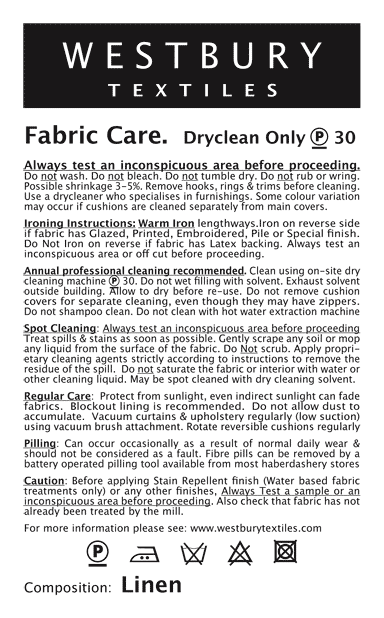 hide care directions label